Landscape Construction and Pavement
in the East and South Bay Area.
Having acquired years of valuable skills and experience in landscape installation and project management, New Earth Landscaping was established in 2009 by Octaviano Pablo to realize his dream of implementing functional and aesthetically distinct outdoor spaces throughout the greater East and South Bay Area. For over ten years New Earth has been fulfilling this dream by offering landscape construction with unlimited variations for individual taste and providing effective solutions for complex issues of terrain contour.
Our numerous satisfied customers around the Bay Area attest to the creativity and craftsmanship with which we complete our projects in accordance with their vision.
New Earth will consult with you and then construct your unique custom landscape. Let us know and we will help you design a landscape requiring low maintenance and water consumption.
We promise friendly and prompt customer service and believe that all business relations are also personal.
Why you should choose New Earth Landscaping!
Fully Licensed – CA Landscape License #1053289
Honest and accurate estimates at no cost to the consumer
Over a decade of proven and verifiable job performance
Guaranteed installation and materials
Check out our Five Star reviews on Yelp, Angie's List, Facebook and Google
If you can visualize it we will help your realize it!
Satisfied Customers
that Love Our Services!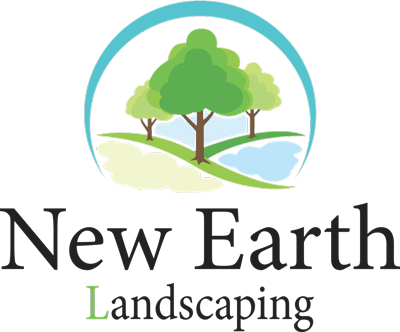 LICENSED, BONDED, INSURED
While most people are primarily interested in cost when selecting a contractor for a project,
there are also other important factors to take into consideration.
You will want to make sure that your contractor is licensed.
Being licensed requires passing a test to measure competency and shows that your contractor is following local laws. Any dedicated, professional contractor will have a license. Working with a licensed contractor also gives you a related government agency to turn to if there is a problem.
New Earth Landscaping is not only licensed, but we hold an A+ rating with the Better Business Bureau.
You will want to be sure that your contractor is insured and bonded.
The State of California requires all licensed contractors to have worker's compensation insurance. If an employee is hurt while on the job, the insurance company pays all the related medical expenses. However, if your contractor does not have workmen's compensation insurance, you could be liable for medical costs, lost wages, and other related costs.
A licensed contractor is also required to have a bond insurance policy of at least $12,500. This is to protect you against any losses in the event that damage occurs to your property or a project is not completed.
We also have a general liability insurance policy of $1 million to protect you and us against any losses due to fire, injuries, death, or structure damage.
Before you select a contractor, it is important to make sure your interests are protected.
New Earth Landscaping adheres to the highest levels of quality and professionalism and is licensed and insured.
Please see our proof of license and insurance:
Contractor's License
Liability Insurance
Worker's Compensation Insurance
Better Business Bureau
Contractor License Bond
Disclosure
COVERAGE AREA
Alameda County
Contra Costa County
Santa Clara County
HOURS
Mon - Fri: 8:00 am - 7:00 pm
COVERAGE AREA
Alameda County
Contra Costa County
Santa Clara County
HOURS
Mon - Fri: 8:00 am - 7:00 pm